The Denver Broncos had another busy day on Wednesday at Dove Valley. The team kicked off the action by
announcing
it had
signed seventeen

undrafted
college free agents.
Next, Denver traded veteran wide receiver
Jabar
Gaffney
to the Washington Redskins in exchange for defensive lineman Jeremy
Jarmon
.
The trade makes sense because
Gaffney
has become expendable in Denver's diverse receiving core. When former Head Coach Josh
McDaniels
arrived in Denver he traded for
Gaffney
from New England, acquiring one of his own, if you will, and pushed electrifying receiver Eddie Royal to the side. Although a solid player,
Gaffney
should have never gotten more opportunities than Royal in Denver's offense.
Now that
Gaffney
is suiting up for another former Broncos Head Coach, Mike
Shanahan
, Denver's younger receivers, Royal and Eric Decker among them, will see more passes this season. The Broncos also got another defensive lineman in the trade, a position where they could certainly use more depth.
Finally, and perhaps most notably, the Broncos have freed up $2.4 million in cap space by parting ways with
Jabar
.
Jarmon
comes in at a much lower price tag and provides a young (23),
versatile
option for the Broncos on the defensive line.
Coming in at 6'3, 286 pounds,
Jarmon
was not a very good fit in the Redskins 3-4 defense playing defensive end. If he makes the roster,
Jarmon
will probably see a rotational role on Denver's 4-3 defense and time at defensive tackle, a role similar to what Kevin
Vickerson
played last season.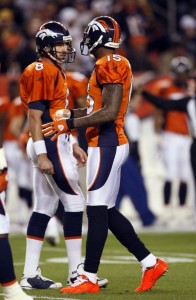 The Broncos are expected to make two more roster transactions soon; sign running back Willis
McGahee
and trade quarterback Kyle Orton to the Miami Dolphins. Miami and Denver have been in serious trade talks regarding Orton, according Adam
Schefter
of ESPN. Another source says the Dolphins offered a 3rd round selection but Denver wants a 2
nd
rounder.
It's unlikely that the Broncos will be able to receive a second round pick for Orton, but it appears that the team will be trading him, soon. The most likely landing spot for Orton is Miami, where he would reunite with former Broncos receiver Brandon Marshall. In 2009 -- the last season Orton and Marshall played together -- the two connected 101 times for 1,120 yards and 10 touchdowns.
Since Marshall was traded, his and Orton's productivity have dropped considerably. A reunion and change of scenery in Miami would undoubtedly benefit both players tremendously.
Back to
McGahee
, the Broncos lost in the
DeAngelo
Williams sweepstakes because they were not willing to pay up the $43 million that Carolina gave him, understandably so. With Williams no longer an option, the team has turned their attention to
McGahee
.
A former Raven,
McGahee
and his agent,
Drew

Rosenhaus

, have the Broncos as one of their top options, making a deal extremely likely to happen. Watch for the Broncos to deal Orton and work out a contract with

McGahee

within the next 48 hours.

Stay tuned and be sure to 'Like' our
Facebook

page
for up-to-the-minute updates on all the transactions that will be happening over the next few days.