Fresh off a week of attending the Broncos training camp and reviewing the Broncos first

pre

-season game, I've been contemplating the state of the Broncos. While trying to avoid being biased, yet not countering that and saying the sky is falling, I've written up a little season preview, and would love your feed back.
After a fast start followed by a late season collapse in 2009, Head Coach Josh
McDaniels
is looking to get the Broncos back on track and back in contention for the AFC West crown. To do so,
McDaniels
has rid the team of distractions, and brought in players who know what he is looking for out of a team.
Here is a quick run down of each position:
Quarterbacks
- Kyle Orton doesn't have as many endorsements, female fans, or screams of support as Brady Quinn and Tim
Tebow
do, but he does have control of the offense, and Josh
McDaniels
endorsement. Throughout training camp, Orton displayed time and time again his thorough knowledge of the offensive playbook, quick decision making, and accuracy. He also took care of the ball, throwing the ball away numerous times. To say Orton hasn't vastly improved from the 2009 season would be like saying Brett
Favre
won't play in 2010 (he will by-the-way). With Orton leading them, the Broncos offense looks to improve from last season; with a year under his belt,
McDaniels
knows what Orton is and isn't capable of, and will use that to the Broncos advantage. Last night Orton was on target, going 8-of-13 for 84 yards and two touchdowns. If the offense's passing attack will be this season like what it was in the
pre
-season so far, the Broncos will be a scary team to face.
After being acquired from the Browns in the
offseason
, Quinn looked poised to erect his career in Denver - until the draft came around. The Broncos drafted
Tebow
, putting Quinn's hopes of being the Broncos future to rest, that is unless
Tebow
becomes one of the biggest busts in the history of football. From what I've seen though, Quinn probably wouldn't have much of a chance to become the Broncos starter anytime soon even if the team hadn't drafted
Tebow
. Brady has a nice spiral on his passes, is good looking, and athletic, but that's about it. During camp, Quinn seemed to be just a body - not making big mistakes while not making any big plays. At first I was impressed with Quinn, he throws more gracefully than Orton, and far more gracefully than
Tebow
. As time went on though, my first impression of Quinn disappeared and reality came into focus - the prettiest technique doesn't equal the best option at quarterback. I imagine
Tebow
will be quick to pass Quinn on the depth chart, especially after last night's performances by both quarterbacks.
Tim
Tebow's
training camp performance, throwing motion, and new hair style have all been heavily documented, so I don't feel there's a need to expound much on
Tebow
in this post. I will however admit that I'm becoming a bit shaky on
a
prediction I made in July
. I had predicted that weather right, wrong or indifferent, the Broncos wouldn't be playing
Tebow
much - if at all - this season, and certainly not in the 'Wild Horse.' There are numerous logical explanations for such an assumption, among them: Playing
Tebow
in a Philly style Michael Vick-like role would risk injuring
Tebow
. Using
Tebow
in certain situations (e.g. goal line, short yardage downs) would let the defense know; "
Ok
,
Tebow
comes in on
this
situation and does
this
, now we know how to prepare for it and stop him, and set up our guys to tee off on him." His technique, and the traditional view of letting a quarterback sit and learn before being thrown onto the fire, are two other arguments as to why
Tebow
shouldn't be starting, or playing - just yet. After Training Camp however, and seeing how
Tebow
reacts to a stadium not even half full of supporting fans,
and
how the Broncos have been using
Tebow
in practice, I'm not so sure that
Tebow
won't be playing this season, if only in a limited role. A couple of times in practice,
Tebow
lined up in the shot gun, took the snap and ran right up the gut, yielding a short gain. At the Broncos
Invesco
Field @ Mile High practice, the Broncos used a similar play down near the goal line.
Tebow
received the shot gun snap, ran to his left, cut back, and rumbled into the end zone. That wasn't
Tebow
only score during the scrimmage, he previously threw a touchdown to
Demaryius
Thomas after fooling the safety with a
pump fake to the opposite side of the field
. The former Florida super star has showed rookie flaws, and doesn't always (hardly ever) throw a traditional pass, but his athletic potential, leadership, and team first mentality outweigh his cons. It's hard to say how the Broncos will use
Tebow
as a rookie, but the outcome of using his raw talents could produce phenomenal results. From looking at
Tebow's
track record, and Josh
McDaniels
' history of experimenting with players and formations, I'm concluding my prediction of
Tebow
not playing much is in a considerable amount of jeopardy.
He really impressed in his Pro dubut
, making just a few mistakes expected of a rookie quarterback. I do know this,
Tebow
isn't going to pass Orton as the starter anytime soon, and barring an injury to Orton, I don't see
Tebow
becoming the starter this season.
With
Tebow
seemingly miles behind Orton, and Brady Quinn looking unimpressive, I now question the decision the Broncos made in June to release second year quarterback Tom
Brandstater
. At the time it seemed like the right thing to do, Quinn and
Tebow
showed promise, Orton was the already-named starter, letting
Brandstater
go before many teams' training camps started gave him a chance to join a team and learn the new offense before camp, opposed to a crash course mid-camp. Now however, it would be really nice to have
Brandstater
back. Kyle Orton is the starter, but not the future,
Tebow
is the future, but hasn't proved anything just yet, and Brady Quinn is - well, the man-in-the-middle. Keeping
Brandstater
up till this point, and seeing how he would perform in the
pre
-season--which by-the-way he probably would have done very well given how he performed last
pre
-season as a rookie, and entering his second year with the team, he would no doubt have made strides in
McDaniels
' offense--before making the decision to cut him, I believe would have been the better option. Because, in my mind,
Brandstater
has more upsides than Quinn does, and fits into the Broncos system better. Albeit, what's done is done, so this was a wasted paragraph as it won't bring
Brandstater
back. Just let it be known I didn't, and still don't, approve of what went down with
Brandstater
.
Overall, the Broncos have some commendable depth at the quarterback position. With almost every other position on the roster plagued with injuries and uncertainties, the Broncos remain safe at Quarterback.
Receivers, Tight Ends
- A question many have proposed over the past few months has been: How can the Broncos replace Brandon Marshall's productivity? I present to you the answer:
Eric Decker,

Demaryius

Thomas
,
Jabar

Gaffney

,
Matt Willis, Eddie Royal, Brandon Lloyd, Brandon

Stokley

, Daniel Graham and Marquez

Branson

.
The depth the Broncos have at receiver heading into 2009 is astounding. The depth is so great that one of the receivers will have to go. With Decker, Thomas,
Gaffney
and Royal possessing the lock-in spots and Brandon
Lloyd sitting atop the Broncos receiver depth chart
, the race for the Broncos final opening at receiver seems to have come down to Brandon
Stokley
and Matt Willis. Twenty-six year old Willis is entering his third season in the NFL, spending last season on the Broncos practice squad. Willis has had an outstanding Training Camp, making all three quarterbacks look good by catching nearly anything and everything thrown his way. Meanwhile, thirty-four year old
Stokley
, who has been called by Mike
Shanahan
the "
best slot receiver in football,"
has remained old reliable. The decision the Broncos face is a tough one, one that I would loathe to make. From everything I've heard out of Dove Valley though, it looks like Willis may have cost
Stokley
a job, if for no other reason because Willis also contributes on special teams making him versatile - something Josh
McDaniels
lives and breathes.
While Stokes and Willis fight for the Broncos' 6
th
spot on the depth chart, the veteran receivers have all improved from last season, and the rookies continue to improve. I was impressed with the physicality of Thomas in camp, as he at times outfought even Champ Bailey to come down with the ball. From such a nice kid with a great smile, it was a little surprising to see such a physical football player, one the Broncos may come to heavily rely on sooner rather than later. Fellow rookie Eric Decker also established himself as a weapon to be reckoned with, letting his hands do his talking. Throughout camp I rarely saw Decker drop a pass (something he doesn't know how to do very well, after only dropping three passes in his collegiate career), and his route running reminded me of Eddie Royal's - exceptional. Both Royal and Decker run crisp routes, using speed and agility to get open, opposed to
Thomas's
method of overpowering a corner. There's not a right or wrong when it comes to a
WR's
style getting open, and often a receiver's technique depends solely on his size.
Two vets who are getting their first real chance to prove themselves in the NFL are Brandon Lloyd and
Jabar
Gaffney
. Towards the end of the 2009 season, the two receivers got more opportunities, and took full advantage of them. In the season finale against the Chiefs,
Gaffney
was just one yard short of tying the Broncos record of receiving yards in a game. In that same game Lloyd only caught four passes, turning receptions into production, Lloyd took those four catches for 94 yards. In
Gaffney
and Lloyd, the Broncos get two similar receivers, who give production without an attitude... ahem Brandon Marshall.
Traditionally,
McDaniels
hasn't used Tight Ends excessively in the passing game, and it looks like that will continue in 2010. Dan Graham is known as one of the best blocking Tight Ends in all of football, so much so that his great hands often get overlooked. Graham provides a big target, and is hard to bring down after the catch. Joining Graham as a receiving option on the line is Marquez
Branson
. After Richard Quinn did all of nothing in the passing game as a rookie, and
Scheffler
was traded to the Lions,
McDaniels
moved
Branson
up from the practice squad. This season
Branson
could see considerable time, both at End and the Full Back position - giving Spencer Larsen some breathers, and giving the Broncos a great receiving threat out of the backfield.
I think last night was a good preview of what we can expect from the passing game this season;
Gaffney
and Lloyd getting a lot of catches and yards with guys like Eddie Royal, Thomas and possibly Decker not getting so much the big yards, but scores.
With a verity of receivers from deep threats to slot production guys, the Broncos posses a terrifying group for defenses to contain. If Decker and Thomas can fully recover from their ankle injuries, and the others stay healthy, the Broncos passing attack could very well rank in the top 10 this season.
Running backs
- This spring
Knowshon
Moreno was primed for a break out sophomore season,
Correll
Buckhalter
was ready to be the great second punch back he was last year, and Peyton
Hillis
was ready to be the Broncos much needed short yardage back. Then,
Hillis
was traded, and both Moreno and Bucky went down with injuries. Without those players at Training Camp, Lance Ball topped the Broncos depth chart, and Denver brought in veteran proven running backs
LenDale
White and Justin
Fargas
. From what I've seen, the Broncos rushing attack will be in serious trouble if
Knowshon
isn't ready when the season starts, or if he goes down this season. White is a punishing back and is a nice safety net who can contribute, much like
Fargas
, but neither provide what Moreno posses. Reportedly,
Buckhalter
is expected to be back at practice for the Broncos this week, while Moreno has smoothly recovered and is on track to be ready at least by the seasons' start. With a year under his belt,
Knowshon
Moreno looks to
amass
his first 1,000 rushing yards as a Bronco, with able
Correll
again seeing playing time like last season, but not to the same extent. In week one of 2010,
Buckhalter
was the starter, and as the season went on he become a relief back for Moreno. This season don't expect
Buckhalter
to see the field as often, as Moreno will be running hard and often, yet not right into the ground. With new capable 3rd down backs, the Broncos short yardage down woes of 2009 shouldn't flow over into 2o10, giving the Broncos more options on 2
nd
and short.
The Broncos will be asking
a lot
of Moreno and company this season, and Moreno is poised to deliver.
Statistics show Moreno's greatest success in 2009 came when he rushed behind a fullback
, and this season fullback Spencer Larsen will be seeing more than double the time he did in 2009.
Offensive line
- The Broncos offensive line has been totally revamped from the 2009 unit. After a slew of injuries to the starters, the offensive line has consisted of
D'Anthony
Batiste at LT, Zane Beadles at LG, J.D. Walton at Center, Stanley Daniels at
RG
, and Ryan Harris at LT. Obviously, the Broncos are hoping that is not the unit that takes the field on September 12
th
in the teams first game, but the chances of the starting line-up looking similar to the take of the O-line listed above are prominent. The Broncos are hoping Ryan
Clady
will return soon, and Chris
Kuper
is expected to able to return soon, at any rate two rookies
will
have to start on the line for the Broncos this season. The notion of two rookies starting on the O-line has raised concern, and for good reason. Several times during the
Invesco
Field @ Mile work out the Broncos held just over a week ago, Kyle Orton was sacked (the defensive linemen are not allowed to literally tackle the quarterback as that risks injury, they can however get to him and touch him, simulating a sack). Whether or not the Broncos have a great pass rush or the offensive line was struggling can be debated, it should be noted however that Elvis
Dumervil
wasn't practicing. Some of the sacks were coverage sacks (meaning the coverage by the secondary was so good Kyle Orton was forced to hold onto the ball longer than he wanted to), while others were the the result of the offensive line being flat out beat by the defensive line. To further cause for alarm, in the Broncos goal line drill the offense didn't score once. The defensive line got penetration, and the linebackers came up field to make tackles, embarrassing the offensive line. All this is not to say all hope is lost, as the line did show some flashes of brilliance, double teaming well and springing running backs into open holes in practice, as well as providing good time for Orton at times.
Entering 2010, the Broncos position of most concern was undoubtedly the offensive line, and the success of the offensive will wholly depend upon the production of the boys in the trenches. Depending on how soon Ryan
Clady
can return, the Broncos pass protection may suffer early on this fall, as well as the rushing attack. When
Clady
is able to return, the line should be pretty steady, paving the way for the offense to put points on the board. Even without
Clady
, the starting line looked
superb
last night, in the passing game anyway. The Broncos had No rushing attack, but that can't all be thrown on the line,
what's-his-name-
Ball was the starting running back . . . (I do know his name is Lance, and have respect for him, hopefully he'll make the practice squad).
Defensive line
- Last season one of the weak points on the team was the front three in Denver's 3-4, most notably the nose tackle. Addressing that, the Broncos went out and signed three defensive linemen in free agency, including All Pro Nose Tackle Jamal Williams, formerly of the San Diego Chargers. Currently the Broncos starting front 3 consists of; Ryan
McBean
, Williams, and another free agent
signee
, Justin
Bannan
. While those players will be the key guys, the Broncos will keep the front three fresh, "There's going to be a lot of defensive linemen playing this year for us," Said Head Coach Josh McDaniels. "[It doesn't] matter who
starts
the game, keeping guys fresh will be key for us."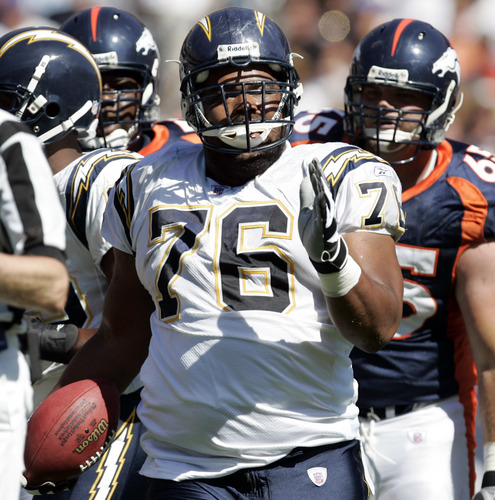 At the start of training camp, Williams was absent due to injury, and Ronald Fields filled in with Marcus Thomas getting some nose reps as well. From what I saw of Thomas, I'm a little surprised he is still on the team. Fields was better, but certainly not a dominating force. A few days into camp Jamal Williams returned to practice, and played with the first team defense. The difference a nose tackle like Williams made was easily visible. The front three created penetration and was suburb against the run, keeping the offensive line in check and freeing up the linebackers to make plays in the backfield.
There is a concern about the age of the Broncos defensive line, but I'd advise brushing off that concern, as
the Broncos have had great production from "old" defensive linemen in the past,
and look to do so again. I like to replace the word"old" with "experienced" when it comes to the Broncos defense, heck, as long as the big boys are creating a push I don't care if it's 52-year-old Brett Favre out there.
The Broncos will have a lot of role players on the line, with many players subbing in and out for different situations, the likes of Jarvis Green and Chris Baker may see some consierable playing time, as well as a few others. The Broncos new Defensive Cordinator, Don "Wink" Martindale, likes to mix things up, and specializes in linebacker blitzes, don't be surprised to see the Broncos switch to 4-3 and 5-2 defensive alignments throughout games, like they did last season.
With Jamal Williams anchoring the line, the Broncos defense, specifically their run defense, will build off 2009's campaign. With much more depth in the trenches than they had last season, the Broncos defensive line figures to be a dominating force in 2010.
Linebackers
- When Elvis Dumervil went down with an injury I heard many remark; "There goes our season." While the defense will assuredly miss Doom's contributions, the season is far from lost. The Broncos have a lot of guys behind Dumervil who are waiting to prove themselves, meanwhile,
Dumervil is expected to be back before season's end
.
In Elvis' absence, second year outside linebacker Robert Ayers and Jarivs Moss will be thrust into the Broncos pass rush spotlight. During Training Camp, Elvis Dumervil and Robert Ayers complimented each other on the edges. While the line focused on Dumervil, Ayers broke through and reached the quarterbacks on many occasions. Ayers has missed the attention Dumervil had been getting, but has been working well with Jarvis Moss and Mario Haggan. Both Moss and Ayers have had great camps, and should provide a good pass rush for the Broncos this season. Much like the defensive line, the Broncos outside linebackers will be rotating throughout games. To date, the starters on the outside are Ayers and Haggan, with D.J. Williams and Akin Ayodele playing on the inside. Versitile Wesley Woodyard is capable of playing both OLB and MLB, and will contribute as well.
The Broncos pass rush won't be the same without Dumervil, however, it will still be present. Robert Ayers applied some pressure last night, and Mario Haggan, as expected, was the team's leader.
The diversity of youth mixed with experience in the Broncos linebacking corps this season will lead to energy, aggressiveness, and big plays.
Secondary
- Entering 2010, the Broncos have a secondary that has been called
the Broncos deepest defensive backfield ever
. From veteran starting cornerbacks Champ Bailey and Andre' Goodman, to promising corner Perrish Cox, the Broncos conerbacks comprise one of the deepest groups in the teams history. Behind Champ and Andre', Cox is joined by free agent signee Nate Jones, who started the past two seasons in Miami. The depth continues, at saftey the Broncos have Brian Dawkins as the Free Saftey, and Renaldo Hill as the Full Saftey. Behind them, solphmore safties Darcel McBath and David Bruton await their time to shine. I've been very impressed with McBath, after a solid rookie season Darcel has continued to improve in training camp. In Denver's Nickle package, Brian Dawkins has been playing in a linebacker-like role and McBath has been the Free saftey.
The Broncos secondary is probably the one area the team has no issues to address. Countless-time Pro Bowler Champ Bailey had a great Training Camp, and continues to be one of the best in the league. Across from Bailey, Goodman has quietly emerged as one of the best #2 cornerbacks, with big play potential. Backing up the Champ is Cox, who has impresed even Bailey, "If me or Goodman go down with an injury, he [Cox] could see some playing time - if not before," Baily said of Perrish Cox. The last line of defense--the safties--are two underrated players with ball hawking skills. Renaldo Hill displayed his versitilaty last season, recording two sacks complimented by his two interceptions. Continuing the Broncos long history of hard hitting safeties, Brian Dawkins has made his mark with the Broncos. Last season Dawkins terrorized offenses, and has shown no sign of slowing down.
This season the Broncos secondary will be one of the main factors to Denver's success on defense. As long as Champ plays like he did against the Bengals, and Brian Dawkins can stay healthy, the secondary looks to be in good shape.
Special Teams
- Last season Matt Prater and Eddie Royal were the key players on special teams. On kickoffs, Prater led the NFL in touchbacks, while going 30-35 on field goal attempts. Like Prater, Royal was absolutely phenomenal. His average punt return distance was 11.2 yards, and his average kickoff return distance was 23.9 yards. This year Eddie won't be seeing as much time on special teams, as he'll be focusing more on receiver. In his place, rookie Perrish Cox will be playing sooner rather than later. In training camp, Cox showed great speed and vision, two attributions a returner must have. With a combination of Cox and Royal, it wouldn't be surprising to see the Broncos run back a few kicks for scores this fall.
The Broncos kick coverage wasn't as good as its kick return team, but the Broncos have addressed that signing and drafting a few special teamers, Joe Mays, Nate Jones and Baraka Atkins among them. Special teams is a big part of the game that goes unnoticed, and this season the Broncos will have to improve their 'teams if they want to contend for the AFC West.
Conclusion, predictions
- The Broncos enter the season boosted with more offensive weapons, and equipped with more depth and bulk on defense. In the wake of injuries, a few unknown players will be called upon to perform, and I believe they are up to the challange. Injuries were a factor last night, and may be this season. The Broncos defense looks like the biggest concern at the moment, but I'm confident they'll look much better when Dawkins returns. Things could get ugly mid-season with a brutal four game stretch against the Colts, Titans, Ravens, and then Jets, but the Broncos finish the season with a relatively easy schedule. I think it's realistic to anticipate 9-to-10 wins from the Broncos this season, with less being a bit of a disappointment and more being a pleasant surprise. The season is upon us!