Peyton Manning was in Denver this weekend to meet with the Denver Broncos and reportedly came away as impressed with the team as they were by him. (Image courtesy of the Denver Post)
Fourteen-year veteran free agent quarterback Peyton Manning has concluded visits to Denver and Arizona and is expected to choose between the Broncos and Cardinals sometime this week, according to multiple sources.
After visiting with the Broncos on Friday evening and part of Saturday, Manning flew to Arizona and conducted a similar visit with the Cardinals on Sunday. Now expected to fly home to Miami, Manning's will consider his options before choosing his new team.
"The Broncos are currently the favorites to land Manning,"
CBS4
's Vic Lombardi reported on Sunday evening. According to Lombardi, the Broncos chances of landing Manning are around 80% — highly likely, in other words.
Many have speculated that if the Broncos do sign Manning, the team will trade third-year quarterback Tim Tebow. The Broncos however have not commented on the situation and may of plans of retaining Tebow.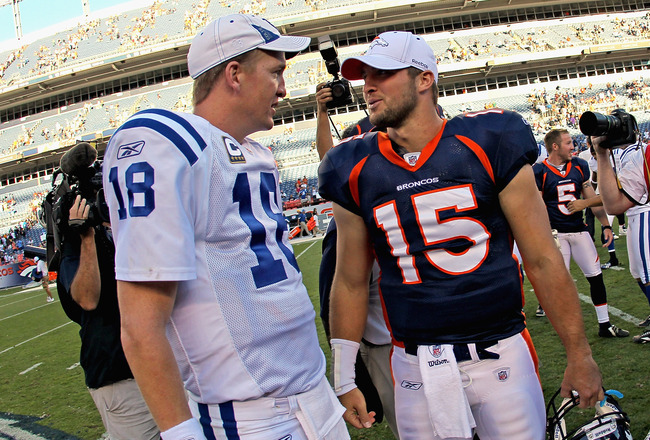 The fact that the Broncos are pursuing Manning has not been viewed as a vote of confidence in Tebow though, and some fans are upset about that. It should be noted that Denver's top brass — V.P. of Football Operations John Elway, Head Coach John Fox and General Manager Brian Xanders (EFX) — have one goal in mind, and that is to get Denver back to the Super Bowl and win it.
EFX have a plan and they are executing it, where is the fan loyalty? If the team believes that Manning makes them a Super Bowl contender, so be it.
The Broncos' front office was responsible for being the only team in the NFL last season to send a rookie and free agent acquisition to the Pro Bowl, and turned a previously 4-12 team into a 9-9 playoff team in one locked out off-season. With a full off-season and new acquisitions, the Broncos are looking to build off of their 2011 run.
Some have cited Manning's health as an area of concern, but multiple doctors have reported that Manning's neck is well on the way to being fully recovered and should not cause any reg flags to interested teams. As for Manning's age, Elway won two Super Bowls with the Broncos when he was older than Manning is today.
"
But Elway did not have a neck injury," commented John Gavina on our Facebook page on Sunday afternoon. This is true, but the chances of Manning re-injuring his neck are just slightly higher than Tebow's chances of re-injuring his ribs or suffering a concussion this season.


There is always the possibility that Denver would keep Tebow, contrary to all of the reports, and have him learn under Manning, perhaps getting several plays a game in special packages. Or, the Broncos could change Tebow's position
— something that he would not abject to if all he cares about is helping the team win games.

Back to being a Super Bowl contender; the Broncos believe that they would become one with Manning. With an improving defense led by rising star outside linebacker Von Miller, the league's top-ranked rushing offense and young, promising receivers in Demaryius Thomas and Eric Decker, Manning's presence would instantly make the Broncos the team to beat in the AFC West, and possibly the entire AFC.


And Manning would bring to Denver more than just his quarterback skills and no huddle offense
— which would presumably be unstoppable at high altitude — he would also become the Broncos' top recruiting tool in free agency. Former Indianapolis Colts and soon-to-be free agents Reggie Wayne, Dallas Clark and Jeff Saturday would all be more than willing to follow Manning wherever he goes, and the Broncos have enough cap room to sign them all.
Denver's own free agents, including receiver Eddie Royal, would also be more inclined to re-sign if they knew a four-time Super Bowl MVP was going to be the team's starting quarterback this season. Once free agency begins, the Broncos may have already signed the highest sought after player of the off-season.
At the end of the day, the Broncos are in no way disrespecting Tebow or anything that he has accomplished, this is a part of the game and it always has been. If the Broncos' think that Manning would upgrade the quarterback position, they'll make the move — which goes to show that all the team cares about is winning, not jersey sales, popularity or incumbency at any position on the team that can be upgraded.
Manning may visit with the Miami Dolphins before making his decision, but it his likely that he will be choosing between the Denver Broncos and Arizona Cardinals. The Broncos are expecting Manning's decision to come by Friday evening, but it may be delayed through the weekend.
Stay tuned for updates and be sure to follow Broncos Zone on Facebook and Twitter for daily updates.