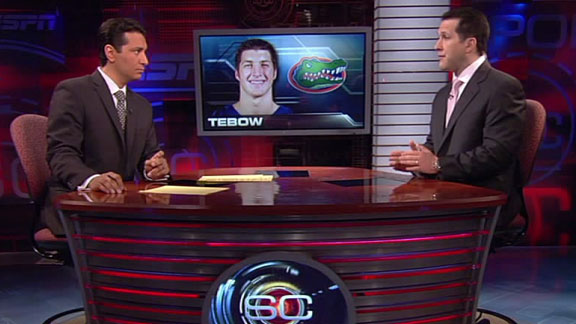 "Let's be very clear about this," ESPN NFL Insider Adam
Schefter told 850KOA
in a radio interview, "the Denver Broncos are keeping Tim Tebow." As many Bronco fans know, Schefter is the ultimate insider when it comes to the NFL, so you can take his word for it.
[
Related
:
Quarterback Tim Tebow: Staying put in Denver
]
"The Denver Broncos are into Tim Tebow this year for $8.3 million dollars, they're not going to be paying him that money and trading him... People can bash Tim Tebow all they want but really, let's see what happens over the course of the season before we start hammering the guy."
Schefter went on to note that the Broncos may not be advertising their plans for Tebow because they do not want other teams to know them.
"If John Fox is planning on using Tebow around the goal line area, would he debut that in the preseason and give opponents time to study that, or is he going to surprise the Oakland Raiders on the Monday Night season opener?"
Schefter backed Tebow throughout the interview with KOA saying what we have been for months: Tebow has not yet had enough experience in the NFL to declare him a starter or a bust.
"Let's just wait and see before we start ripping Tim Tebow and declaring him to be a failure -- the guy at least deserves the chance to prove himself over time. I'm not ready to declare a quarterback a success or failure after just two weeks of the preseason."
It's
nice to finally hear some logical thoughts on the Tebow situation, shout out to Schefter.